How to Display Sheet Tabs in Excel 2010
Excel workbooks are actually collections of different spreadsheets that you can use to organize data within one file. But the sheet navigation at the bottom of the window takes up valuable screen real estate and, if you want that extra space to be able to view more cells at once, you might decide to hide those sheet tabs. If you have personally hidden the sheet tabs in Excel 2010, or if someone else uses your computer and they have hidden them, then it can be difficult to switch between sheets in a workbook. Fortunately it is a simple process to restore these sheet tabs to the bottom of your workbook screen so that you can effortlessly navigate between sheets.
Have you been considering a switch to Windows 8? Learn more about the different versions and pricing to decide if making that switch is in your best interest.
How to Unhide Sheet Tabs in Excel 2010
If unhiding your sheets is a temporary effect, then you will be happy to know that you can simply reverse the process outlined below to go back to hiding the sheets. But for the purpose of showing your worksheet tabs below your Excel spreadsheet, which is the default setting, you can simply follow this procedure.
Step 1: Launch Microsoft Excel 2010.
Step 2: Click theFiletab at the top-left corner of the window, then clickOptions.
Step 3: Click theAdvancedoption in the column at the left side of theExcel Optionswindow.
Step 4: Scroll to theDisplay options for this workbooksection, then check the box to the left ofShow sheet tabs.
Step 5: Click theOKbutton at the bottom of the window to apply the change.
How to Unhide a Single Worksheet Tab in Excel
If you are able to see some sheet tabs at the bottom of the screen, then you may need to unhide worksheets individually instead. This is a pretty common occurrence in a large Excel file, particularly if includes a lot of formulas that reference data which may not need to be visible or accessible to others who work with that file.
You can do this by right-clicking one of your visible worksheet tabs, then choosing theUnhideoption. This is going to open the Unhide dialog box.
Select the sheet name of the worksheet that you wish to unhide, then click theOKbutton.
What is a Worksheet Tab in Excel?
A worksheet tab in Excel is a small button below your cells that allows you to navigate between the different worksheets in your file.
If you haven't renamed them, then they probably say something like Sheet1, Sheet2, Sheet3, etc. If you want to rename worksheet tabs in Excel, you can do so if you right-click on one of the tabs, then choose the Rename option.
Where Do Sheet Tabs Display in a Workbook in Excel?
The worksheet tabs in your workbook display near the bottom of the window. The example image below is from Microsoft Excel 2010, but still applies in future Excel versions such as Excel 2013, 2016, and Excel for Office 365.
Right-clicking these tabs provides you with the ability to rename them like we showed in the section above, as well as the ability to hide or unhide tabs, change the color of a tab, or even select all of the sheets in your workbook at the same time.
The "Select All Sheets" command is particularly useful if you have a lot of worksheets in your file and would like to apply the same action to each of those tabs. For example, if you select all of your sheets then type something into one of the cells in one of the selected worksheets, then the data that you have entered will appear in that same cell on each of the selected sheets. The same goes for a number of formatting options, too.
How to Add Tabs in Excel
While many Excel installations will provide three worksheet tabs by default, that may not be enough for the work that you are about to do.
Fortunately you can add a new Excel sheet tab by clicking the tab to the right of your last tab. If you hover over this tab it will sayInsert Worksheet. It also lets you know about the keyboard shortcut that can add a new worksheet tab, which isShift + F11.
Conversely you can delete a tab by right-clicking on it and choosing theDeleteoption.
How to Show Worksheet Tabs in Excel if They're All Hidden
If you've read this article in an attempt to show your hidden worksheets, but are struggling to do so because there simply aren't any tabs shown at all, then you may need to change a different setting.
Step 1: If you click theFiletab at the top-left of the window, to the left of theHometab, you will notice anOptionsbutton at the bottom of the left column. Note that if you're working in Excel 2007, you will need to click the Office button instead.
Step 2: Click thatOptionsbutton, which opens theExcelOptionsmenu.
Step 3: Select theAdvancedtab at the left side of the window.
Step 4: Scroll down to theDisplay optionsfor this workbooksection, then check the box to the left ofShow sheet tabs.
Step 5: Click theOKbutton at the bottom of the window to apply the changes.
We have a number of other helpful articles about Excel 2010 on this site. Check out this page to see some articles that might help you with a problem you are having, or might give you an idea about how to customize Excel in a way that you didn't know was possible.
Share this:
Disclaimer: Most of the pages on the internet include affiliate links, including some on this site.
How to Show and Hide the Worksheet Tabs in Excel
@howtogeek
June 24, 2015, 10:24am EDT
If you're short on screen space, you may want to hide parts of the Excel window, such as the ribbon and the worksheet tabs. We've already shown you how to hide the ribbon, so here we'll show you how to hide the tabs.
To begin, click the "File" tab.
On the backstage screen, click "Options" in list on the left.
On the "Excel Options" dialog box, click "Advanced" in the list of items on the left.
Scroll down to the "Display options for this workbook" section (not the "Display" section) and select the "Show sheet tabs" check box so there is NO check mark in the box.
Click "OK" to accept the change and close the "Excel Options" dialog box.
You can also hide other items in Excel such as cells, rows, and columns and comments, formulas, and gridlines.
Introducing the Excel 2007 Ribbon

Excel 2007 For Dummies
The Ribbon interface in Microsoft Office Excel 2007 radically changes how you work. You no longer need to find on which pull-down menu or toolbar a command resides. Instead, the Ribbon shows you the most commonly used commands and options to perform a particular Excel task.
You'll find the Ribbon near the top of the Excel 2007 window. Click a tab name — such as Home or Page Layout — to see the options available on that tab. The Home tab displays the commands and options you use most often.

The Ribbon is made up of the following components:
Tabsfor each of Excel's main tasks that bring together and display all the commands commonly needed to perform that core task; contextual tabs display additional commands and tools only when you're working with a particular object in the worksheet (such as a chart)
Groupsthat organize related command buttons into subtasks normally performed as part of the tab's larger core task
Command buttonswithin each group that you select to perform a particular action or to open a gallery from which you can click a particular thumbnail
Dialog box launcherin the lower-right corner of certain groups that opens a dialog box containing a bunch of additional options you can select
You can double-click any tab on the Ribbon to minimize it and display only the tab names, revealing more of the worksheet area. Double-click any tab again to redisplay the entire Ribbon.
Show or hide the ribbon in Office
The ribbon is a set of toolbars at the top of the window in Office programs designed to help you quickly find the commands that you need to complete a task.
Show Ribbon options
At the top-right corner, select the Ribbon Display Options icon
.
Choose an option for the ribbon:
Show Tabs and Commands keeps all the tabs and commands on the ribbon visible all the time.
Show tabs shows only the ribbon tabs, so you see more of your document, and you can still quickly switch among the tabs.
Auto-Hide ribbon hides the ribbon for the best view of your document, and only shows the ribbon when you select More
, or press the ALT key.
Collapse the ribbon or expand it again
Double-click any of the ribbon tabs or press CTRL+F1 to collapse the ribbon if you need to see more of your document.
To see the ribbon again, just double-click any ribbon tab, or press CTRL+F1.
If the ribbon isn't visible at all
If the ribbon isn't visible at all (no tabs are showing), then you probably have it set to Auto-hide. Select More
at the top right of the screen. This will temporarily restore the ribbon.
When you return to the document, the ribbon will be hidden again. To keep the ribbon displayed, select one of the Show options above.
See also
Minimize the ribbon
You can minimize the ribbon if you need to see more of the document you are creating. To collapse the ribbon, select the Minimize the Ribbon arrow at the top right.
To see the ribbon again, select the arrow again.
Show tabs and commands in excel 2007

Classic Menu for Office 2007 Suite and Applications

No Training
The software allows you to work with Office 2007 as if it were Office 2003. It shows the familiar classic menus and toolbars on the ribbon in Microsoft Office 2007. If you were using Office 2003 (or Office XP, Office 2000) before, you don't need training or tutorials after upgrading to Microsoft Office 2007 with this add-in now. The software product line includes following software:
Classic Menu for Office 2007 (includes all applications list below)
Classic Menu for Word 2007
Classic Menu for Excel 2007
Classic Menu for Access 2007
Classic Menu for Outlook 2007
Classic Menu for PowerPoint 2007
Ribbon Customizer for Office 2007

New Features
The new features and commands of Microsoft Office 2007 have been added into the classic style interface. The Office 2007 ribbon tabs are kept intact, so you can truly get the best of both worlds.

100% Satisfaction Guarantee
60-Day Money Back Guarantee. 2 years of free support and updates are included. $ 29.95 only! Save $50 now!
Description
Details
Download & Purchase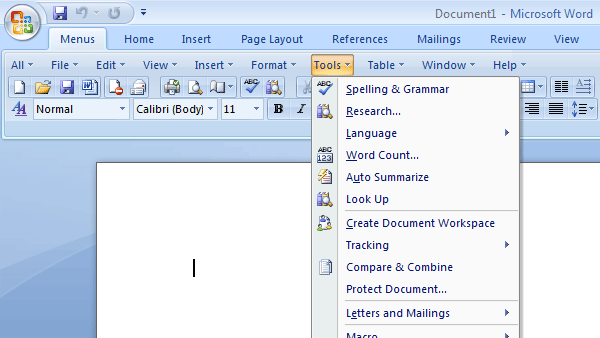 Easy transition from Office 2003/XP/2000
You don't need any training or tutorials after upgrading to Microsoft Office 2007. You can instantly start working without suffering through the learning curve of finding commands on the Office 2007 ribbon. You can do you job without suffering a productivity drop.

Learn and Study the Microsoft Office 2007 in Another Way
The software will help you to learn and study the Microsoft Office 2007 in another way – traditional user interface. With this way, you can quickly browse and call all features in text mode of menus and don't need to remember position of controls.

Easy Deploying.
It is very easy to deploy the software to all the computers in your organization or company.

Multi-Languages.
Supports all languages that are supported by Microsoft Office 2007 including: English, French, German, Italian, Spanish, Portuguese, Japanese, Dutch, Chinese, and more. If you change the default language in Office 2007, the language of Classic Menu will automatically change.

Familiar Keyboard Shortcuts
If you were a fan of the Alt shortcuts in Office 2003, those shortcut keys are still available with one modification. Insert Q as the first letter of the shortcut. For example, you could press Alt, T, A one by one to open the Tools, AutoCorrect menu in Excel 2003. In Excel 2007, the shortcut will be Alt, Q,T, A one by one.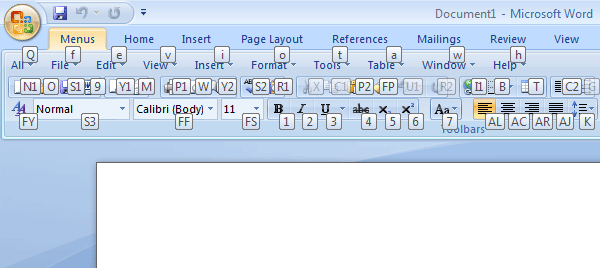 More Toolbars Than Before
In addition to supporting the Standard and Formatting toolbars, the current version offers toolbars such as Comments, Proofing, Tracking, Mailings and Reference. You can display these toolbars as needed.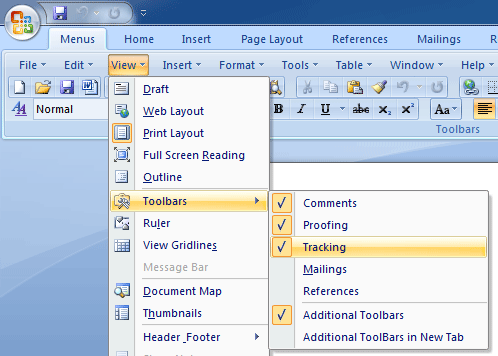 You can choose to show all the additional toolbars in a special ribbon tab.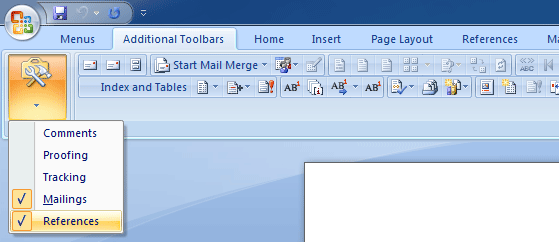 Do you want to Customize the 2007 Ribbon?
Upgrade to our Ribbon Customizer for Office 2007 and you can add or remove commands from Word 2007, Excel 2007, or PowerPoint 2007. This advanced utility supports adding tabs, groups, buttons, galleries, menus, combo boxes, labels, edit boxes, split buttons, toggle buttons, check boxes without writing any Ribbon code. You can rearrange commands, add new icons to run macros, even change the graphic s used for various icons. Note that customizing the ribbon requires a fair amount of technical knowledge, even with this tool. The software makes it easier, but it will still require an advanced level of expertise with Office.
Improvements In the Latest Version

Smaller file size.


Faster startup.


Easy to install, uninstall and use.


Easy to show or hide tabs on the Ribbon.


Easy to show or hide the classic menus and toolbars.


Quickly find and execute the command that you want.


The Office 2007 icons and controls on the ribbon are available at all times.


Use Microsoft Office 2007 Applications immediately without any training or tutorials.


Fully compatible with Microsoft ® Windows ® 8 (32/64), Windows 7 (32/64), Vista (32/64), XP, Windows Server 2003, 2008 and 2012 (32/64), Windows Terminal Server and Citrix System .


The classic menus and toolbars are compatible with all Microsoft Office 2007:
Microsoft Office Basic 2007
Microsoft Office Home and Student 2007
Microsoft Office Standard 2007
Microsoft Office Small Business 2007
Microsoft Office Professional 2007
Microsoft Office Professional Plus 2007
Microsoft Office Ultimate 2007
Microsoft Office Enterprise 2007
Editor's Reviews
CNET editors' rating:
If you find yourself spending way too much time trying to locate frequently-used Microsoft Office commands through its newly designed interface, this program is for you. (www.Download.com is a web site of CNET)
– Reviewed by: CNET
Make Office 2007 Look Like Office 2003
If you're stuck with Office 2007, yet yearning for the familiar menu of Office 2003, you now have an option.
– PCWorld
Hands on: Show Office 2007 who's the boss
. Sensing an opportunity, third-party software vendors have stepped in with products that either replace or enhance the new Ribbon interface in several Office 2007 applications. Classic Menu adds a tab filled with Office 2003 menus.
– ComputerWorld
Don't get derailed by Office 2007 compatibility issues
#10: Adding on a "classic" user interface. If you want, you can install a third-party add-on that gives you back the old menu bar without sacrificing the new Ribbon. Classic Menu for Office 2007 installs easily.
– TechRepublic
Awards
Microsoft Office Compatibility
Microsoft Office 2007 Suites and Applications
Operating System Compatibility
32-bit or 64-bit Windows 7, Vista or XP
32-bit or 64-bit Windows Server 2003, 2008
Memory Requirements
None
Minimum Hard Disk Space
9 MB
Minimum Processor Compatibility
None
Minimum Resolution Required
1024 x 576
Minimum Color Requirement
None
Internet Access Required
None
Additional Software Required
None
Install Support
Yes
Uninstall Support
Yes
Delivery Type
Free Download (CD is optional)
Manufacturer
Addintools (Detong Technology Ltd.)
For Enterprise/Organization :Volume discounts apply whether you are purchasing 2 units or 50,000 units. Click the link below for volume license pricing.
Product ID
Product Name
Price (USD)
Discount for
Volume License
Check Out with MyCommerce
Download
14174-4
Classic Menu for Office 2007
29.95
Discount
Buy Now
Download
14174-5
Classic Menu for Excel 2007
15.99
Discount
Buy Now
Download
14174-6
Classic Menu for Word 2007
15.99
Discount
Buy Now
Download
14174-7
Classic Menu for PowerPoint 2007
15.99
Discount
Buy Now
Download
14174-8
Classic Menu for Access 2007
15.99
Discount
Buy Now
Download
14174-9
Classic Menu for Outlook 2007
15.99
Discount
Buy Now
Download

60-Day Money Back Guarantee
100% satisfaction guarantee. If you are not happy with the product for any reasons, simply send an email to [email protected] within 60 days, and we will happily refund 100% of the cost of the order.
Updates and Support
As a registered user, you are entitled to a fully functional, unrestricted copy of the software, free technical support and free updates (service packs, patches and higher versions of the same software).
Security and Privacy
Your payment is securely processed by MyCommerce (A Digital River Company) and PayPal. Digital River is a leading provider of global e-commerce solutions. Founded in 1994, Digital River is headquartered in Minneapolis with offices across the U.S., Asia, Europe and South America. For more details about Digital River, call +1 952-253-1234.
When you place an online order, your credit card information is sent directly to the credit card processor via a secure (SSL) channel so that no one can intercept your personal data.
We fully respect your privacy and will not collect any of your personal information. The information that you provide will not be made available to third parties.
More Info
Available Ordering Options Include:
Phone, Invoice,Credit Card, Fax-Credit Card, Bank/Wire Transfer , Check/Money Order, Purchase Order .
Extended Download Service
Please note that there will be an item in the shopping cart named "extended download service", which is selected by default. The service is provided by MyCommerce. You can remove this item, and it will not affect how the software works. To remove the item, click the "Remove" checkbox near this item.
CD-ROM
MyCommerce offers an optional backup CD-ROM. In most cases, you do not need to purchase this CD-ROM, because you can always download the current version of the software for free from our web site.
Recipient or Licensee
By default, the licensee name will be the same as purchaser's details when processing the order. If you need the software to be licensed in a different name, unselect the checkbox for "The Recipient or Licensee is the same as the Purchaser"
Phone Order
You can order by phone using the 24/7 Customer Service Center of MyCommerce at + 1-952-646-5331 or call toll free from the US and Canada at 1-877-353-7297 . Please provide the product ID number when placing a phone order. Phone orders are subject to an additional $3.00 USD order processing fee.